Blue Mining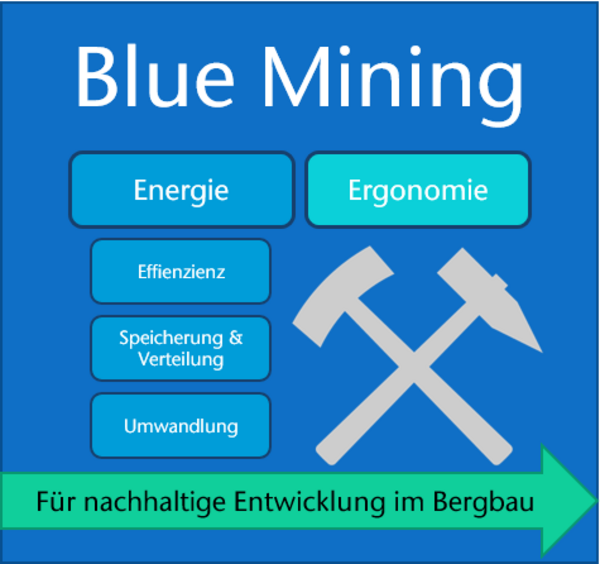 Blue mining describes mines that are sustainable, energy-efficient and ergonomic. Furthermore, this new term includes the further use beyond the actual extraction, namely as a possible energy supplier. According to this concept, the mine returns the energy it used during the extraction phase. This concept must therefore be considered over the entire life of a mine or deposit. The defined areas of "sustainability - energy - ergonomics" each come into focus as soon as they are applicable to a respective phase in the deposit cycle. This means that from the beginning of the exploration work until the closure of a mine and beyond, the listed areas "Sustainability - Energy - Ergonomics" each come into focus under the context of the life phase of a deposit.
By combining the 3 terms "Sustainability - Energy - Ergonomics", a wide range of design options can be realized for the raw material extraction of today and tomorrow. The introduction of the term "Blue Mining" should offer a possibility to work holistically sustainable, economical, ecological, energy efficient as well as ergonomic.
Below you will find the projects that the Institute of Mining is currently working on within the framework of this concept.
Wasserspeicher Harz 2050
WATER STORAGE HARZ 2050
Creation of a unique digital twin by identifying potentials for a strong water and energy economic region Harz - Part 1.
Energy and Water Storage Harz
ENERGY AND WATER STORAGE HARZ
Development of innovative approaches to couple sustainable system services for flood protection, resource assurance and energy storage.